'Reduce, reuse, recycle' was our mantra for this advertising agency. The people at Gummo knew that they could only rent the space for two years so they asked us to create an office with little impact on their wallets. We made sure it also had little impact on the environment.
Our single-minded approach: making the office the 3D translation of Gummo's simple yet stylish all white-and-grey house style. Not by buying loads of new stuff, but by giving existing furniture a grey polyurea Hotspray treatment.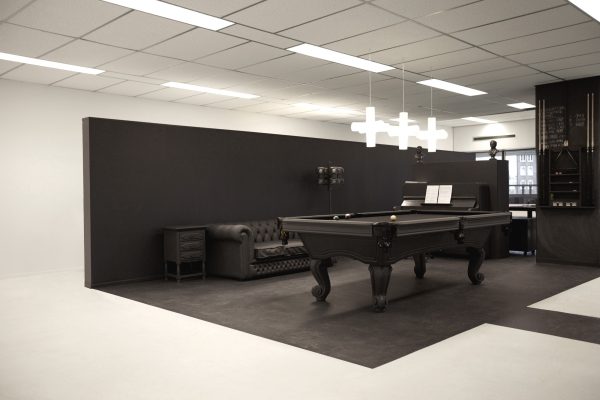 Besides the furniture Gummo already owned, we used the furniture that we found in the office space in the former Parool newspaper building. We bought more second hand online and in charity shops. The mix of types and styles makes our strict intervention more playful. Even Jesus couldn't escape our grey spray.
'This design for a temporary office seems to have formulated an answer to the call for identity and the demand for sustainability'
We also 'reused' the building itself. We didn't change a thing and only divided the space by painting grey zones on the floor that form a unity with the furniture.

We won a The Great Indoors award for this interior. The words of the jury: "…many interiors do not last longer than five years. This design for a temporary office seems to have formulated an answer to the call for identity and the demand for sustainability. With this simple manoeuvre, by which all individual elements are connected by the colour black and a simple zoning system'
Design

i29 interior architects

Client

Gummo

Floor area

450 m2

Completion

March 2010

Location

Amsterdam, NL

Photography

i29 interior architects

Construction

Kooijmans Interieurbouw