'Superior tiny homes, simply featuring essentials'
Câpsula introduces a new typology of premium tiny houses to inspire new ways to live well. Superior tiny homes, simply featuring essentials. In a complex world, we advocate simplified and uncomplicated. Câpsula builds on the promise of advanced design where less is more. Distinctive tiny architecture, rich in bare essentials. Beautifully designed dwellings with a small footprint that promote slow luxury and peace of mind. Think of fewer options, with excellent choices made for you. But more than to think, we urge you to feel the luxury of slow living. To be happy, how much do we need?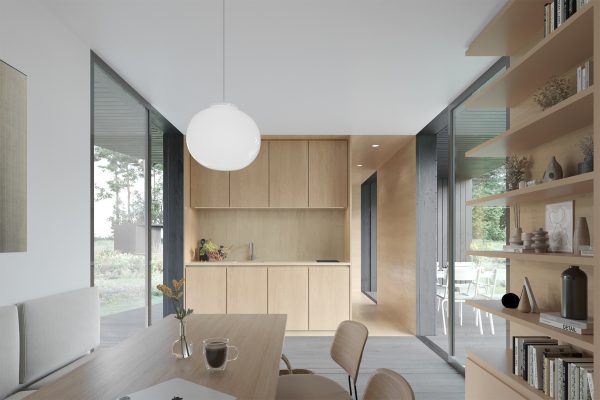 'To be happy, how much do we need? '
Seamlessly connecting the interior with the great outdoors from any viewpoint, the highly intuitive design of Soft Lodge expands on the urge to reconnect with nature, ourselves, and others. The striking glass facade and mirrored, angular design language with double-sided terraces seem to stand out from the natural landscape, only to blend in with the natural surroundings in a surprisingly organic way. Sustainable materials, local production and innovative design solutions — mind the zip-on curtains on both sides for two optional extra indoor (bed)rooms — make this designer home reflect a surprisingly versatile take on luxurious tiny living.

Câpsula proposes a growing collection of beautifully composed tiny houses boasting unique design features, supporting flexible use and celebrating perfect finishing. The Dutch tiny house label was initiated by i29 architects.
More information: www.capsula.nl
Design

i29 architects

Client

Câpsula

Floor area

25 - 50 m2

Completion

October 2023

Location

Netherlands

Photography

i29 architects

Construction

Van Middendorp, Cretim
Please enter your email address to get access to the press area.
Press area