'open office with flexible working spaces'
For Schouw -an international IT firm that helps food companies automate their resource planning- we designed this open office with flexible working spaces and plenty of meeting- and presentation rooms. That's just what Schouw needed in their new office building, because they host a lot of training programs.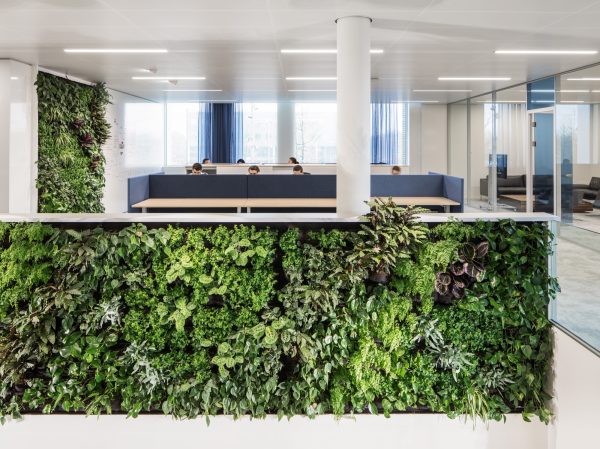 To create different areas, we used the fresh greens and blues that are part of the Schouw brand identity. You can see them in the bold floor patterns, office furniture and acoustic wall panels. We also made plants a major theme; they refer to health, freshness and nature.
In the middle of each office floor we created a social interaction hub: coffee bar, pantry, printing room and meeting area all-in-one. Photographs printed on soft wall panels guarantee superb acoustics and also divide the space. The images of farmer fields are a reference to the food industry. Their colors contrast well with the stark white climate ceiling and whiteboard walls.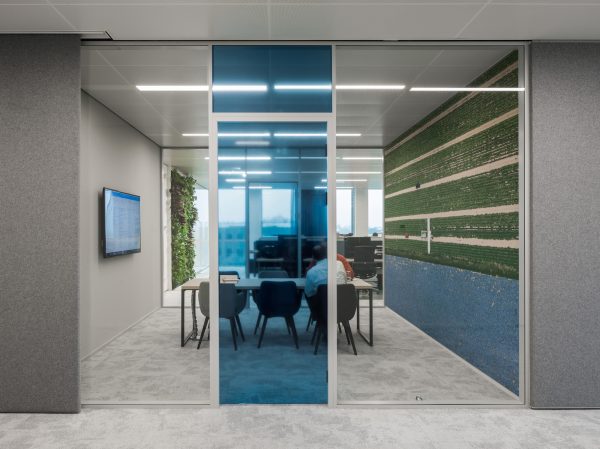 The fresh blue office restaurant blends in with the office environment; a perfect place to have a meeting over coffee. Hanging plants in the vide above the entrance connect the ground floor with the first floor. Just like the nine walls made of living plants, they provide extra oxygen and humidity and thus improve air quality. They also contribute to the perfect acoustics.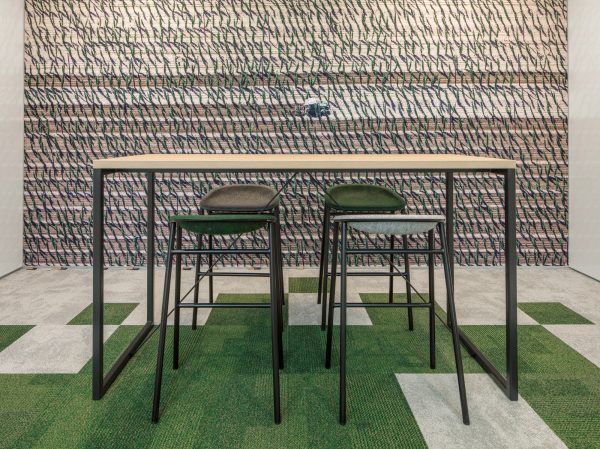 To make the office even more comfortable and sustainable we integrated the latest technology in lighting and climate control. The result: an office that is the perfect place for growth.
'an office that is the perfect place for growth'
Design

i29 interior architects

Client

Schouw Informatisering

Floor area

2500 m2

Completion

July 2017

Location

Etten-Leur, NL

Photography

Ewout Huibers

Construction

Zwartwoud BV (interior)

Collaborative architect

Bedaux de Brouwer