The story of Hotel Casa in Amsterdam starts with four students and a mission. Casa was founded in the late 50's with the aim to solve the housing shortage among students. By making the rooms available to hotel guests on a seasonal basis, Casa is still able to provide students with affordable housing to this day. This creates a unique and inspiring mix of users.
'a unique and inspiring mix of users'
i29 made the interior design for all 518 hotel rooms, in collaboration with furniture label Lensvelt and textile designer Mae Engelgeer. The concept was to realize a diversity of rooms where everything revolves around 'coming home', comfort and tactility are central due to the use of acoustic-enhancing materials such as PET felt and textile. Each room has a desk with a classic desk lamp, a comfortable bed with storage space, a flexible hanging bedside table, a window sill with cushions, a pantry and a multifunctional wall.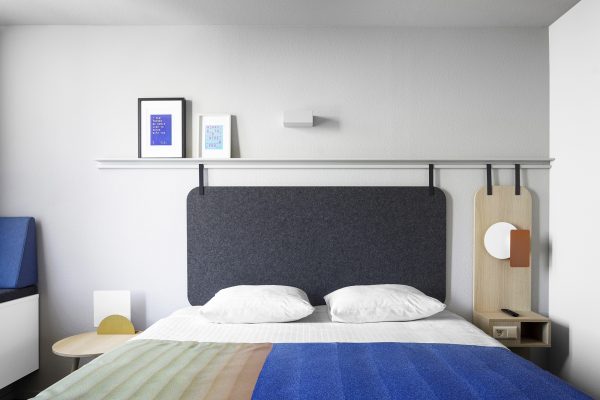 'everything revolves around ​'coming home'
Casa has been a home for hotel guests, students and locals for 65 years; a unique concept within the hotel industry with the slogan 'Forever Young'. i29 has translated this into a quirky colorful and flexible design in which rooms can function as both a student room and a hotel room. It is possible to easily personalize the room without the need for additional furniture. Moreover, efficient house-keeping and sturdiness have been explicitly taken into account.
Rooms are available in different colors and classes, from standard to premium. The graphic house style of Casa, designed by Lesley Moore, is subtly recognizable in the line pattern of the flexible cabinet system of the wooden wall. But also prominent in the form of 'wall art', welcome flyer and information booklet.
Due to the scale of the project, it was possible to develop unique products especially for Casa that express the Casa identity. The series of products consists of lighting, furniture and textiles. Durable materials such as the PET felt wardrobe and headboard have been used. Special colors and patterns have been developed for the floor finishes and curtains.
Interior design

i29

Development & Management

Lensvelt

Textile design

Mae Engelgeer

Client

Hotel Casa

Floor area

17800 m2

Completion

May 2022

Photography

Ewout Huibers, Thomas van Schaik

Construction

Lensvelt

Interior builder

Coors
Please enter your email address to get access to the press area.
Press area