'A luxury department store'
De Bijenkorf is a luxury department store with seven branches in the Netherlands and part of the British Selfridges Group. i29 made the design for the new 3500 m2 menswear department on the first floor of the Amsterdam store. Previously i29 and De Bijenkorf collaborated on Room on the Roof, an artist in residence in the tower on the Dam Square and the interior of 'The Kitchen', the restaurant of De Bijenkorf Utrecht.
'unveiling the original construction'
The monumental building on the Dam square in the heart of Amsterdam is a national monument. For the major renovation that is going on for some years, the British firm HMKM made a new retail strategy and KAAN architects an architectural vision. The starting point was unveiling the original construction and opening up the façade for more daylight and the connection with the city.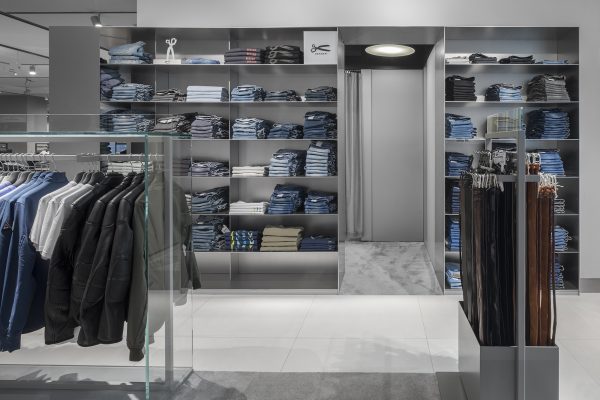 'a spectacular LED installation'
In the center of the store a spectacular LED installation is placed. Powerful brand presentations can be made here by means of branded videos in combination with the products. Brands that have presented themselves so far are: Off White, Filling Pieces and Kenzo.
De Bijenkorf wants to initiate positive change by promoting its own vision on sustainability, setting a good example and creating awareness. "We help to make the fashion industry more transparent". The interior follows this vision through the use of sustainable materials, natural and LED lighting, plants and cradle to cradle floor finishes.
Design

i29 interior architects

Client

De Bijenkorf

Floor area

4500 m2

Completion

2019

Location

Amsterdam, The Netherlands

Photography

Ewout Huibers

Construction

Dula