In a former industrial area in the north of Amsterdam, this apartment building was built for people providing freedom to all co-design their own homes. An open loft space without a prefixed layout and a double height ceiling gave us the possibilities to realize a completely custom designed interior, made to measure for a writer and art collector couple.
'a bespoke interior, made for a writer and art collector'
To display the collection of art in the ultimate way was our starting point, so we designed double height bespoke cabinets as well as integrated glass vitrines to display the art pieces.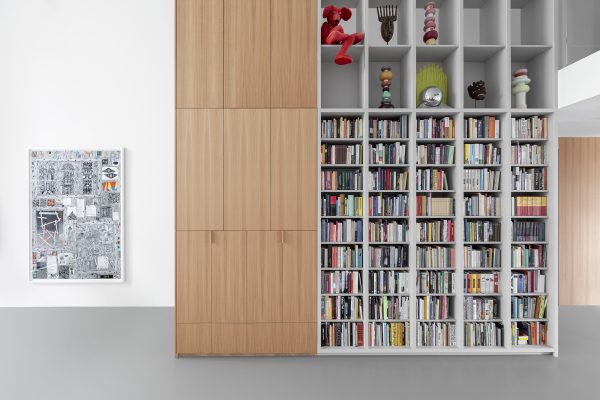 'high rise cabinets visually connect the two floor levels'
On ground floor level the entrance area, kitchen and living room are placed in open connection to each other. Within the double height of the loft, an extra floor level is built for a bathroom, two bedrooms and office space. The high rise cabinets visually connect the two floors and includes an integrated staircase.
All custom designed kitchen and cabinets throughout the apartment are finished in a combination of wooden and gray surfaces. The stark and simple spatial interventions are in contrast to the colorful pieces of art, balancing and supplementing each other.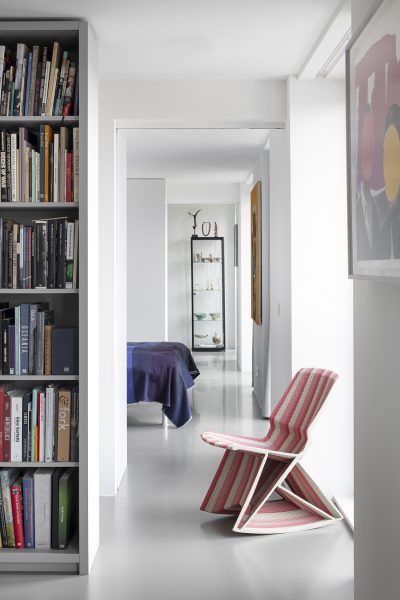 Design

i29

Client

Private

Floor area

180 m2

Completion

February 2021

Photography

Ewout Huibers

Construction

Dubbeldam Bouw

Interior builder

Coen Vleugel
Please enter your email address to get access to the press area.
Press area